WELTAB Are Available In 6 Flavors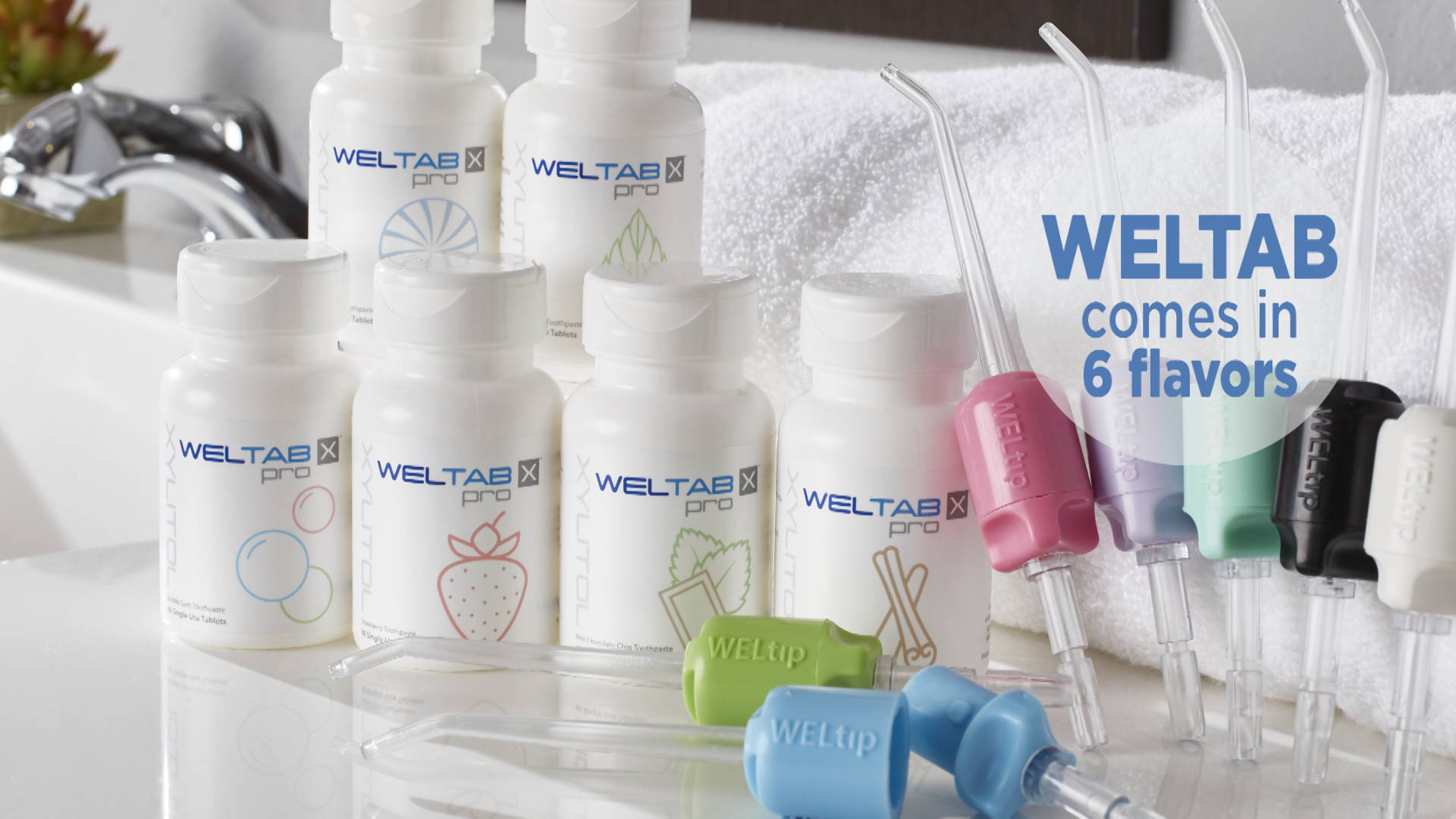 WELTAB Ingredients: Xylitol - NON-GMO, Natural Flavoring, Hydrogenated Vegetable Oil, Quillaja Saponaria Extract - Organic Foaming Agent, Calcium Phosphate
If you aren't using our Patented WELTIP toothpaste delivery system, you are spreading Plaque Bacteria. WELTIP is the only product that gently delivers Xylitol to your gum pockets where the Plaque Bacteria thrive.
WELTIP Is Available In 7 Colors
The War Against Plaque and Why You Are Losing
Most people have been attempting to address the symptom, Plaque, instead of the source of Plaque, bacteria. The Streptococcus Mutans bacteria is the primary source of plaque and acid. This harmful bacterial loves Xylitol and but it can't metabolize it. Without its normal fuel source, sugar, it quickly dies of starvation.
WELTAB Smooth Mint Ingredients: Xylitol - NON-GMO, Natural Flavoring, Stevia, Quillaja Saponaria Extract - Organic Foaming Agent, Calcium Stearate, Calcium Phosphate
WELTAB (All other flavors) Ingredients: Xylitol - NON-GMO, Natural Flavoring, Stevia, Hydrogenated Vegetable Oil, Quillaja Saponaria Extract - Organic Foaming Agent, Calcium Stearate
RESULTS
"My dentist gave me an estimate of $2350 for periodontal treatment I needed. Before engaging such extensive treatment, I purchased a WELdental Water Flosser. After 4 months, my dentist was amazed that my need for periodontal treatment had vanished. THANK YOU!"
- Elaine Y January 26, 2018
"I had a dental visit yesterday and was praised for having so little plaque buildup... Great products!"
- Patricia F December 15, 2017