WELTIP WATERPIK REPLACEMENT JET TIPS


The World's First Water Flosser Tip With Infuser Technology
Traditional Flossing Methods Spread Plaque Bacteria
WELTIP's Patented Design Is Compatible With Waterpik Flossers
Use With Our WELTAB Water Flosser Tablets
WELTIP Gently Delivers 100% Natural Xylitol To Your Gum Pockets, Stopping Plaque Bacteria Progression.
Choosing the correct WELTIP for your model of Waterpik is easy
​1 - Find your Waterpik model using the photos.
2 - Clicking on the button below the correct photo will automatically select the correct WELTIP version for your water flosser.
3 - Then just select your Color Choice in the second drop down menu above.
The only water pick tips on the market that are a Xylitol water flosser tablet delivery system
Our Xylitol water flosser tablets do not contain Silica so they are not abrasive

The only water pick tablets that do not contain SLS, Sodium Laurel Sulphate

We use the safest, natural ingredients so they are also Fluoride Free
If you aren't using our Patented WELTIP toothpaste delivery system, you are spreading Plaque Bacteria. WELTIP is the only product that gently delivers Xylitol to your gum pockets where the Plaque Bacteria thrive
Waterpik ®, Showerpik ®, Traveler ™, Panasonic ®, H2Ofloss ™ and ToiletTree ™ are registered trademarks. WELdental, WELtip and WELtabs are not affiliated in any way with these companies or their products.
WELTAB Are Available In 6 Flavors
This WELTIP set comes with 1 bottle of Smooth Mint WELTABs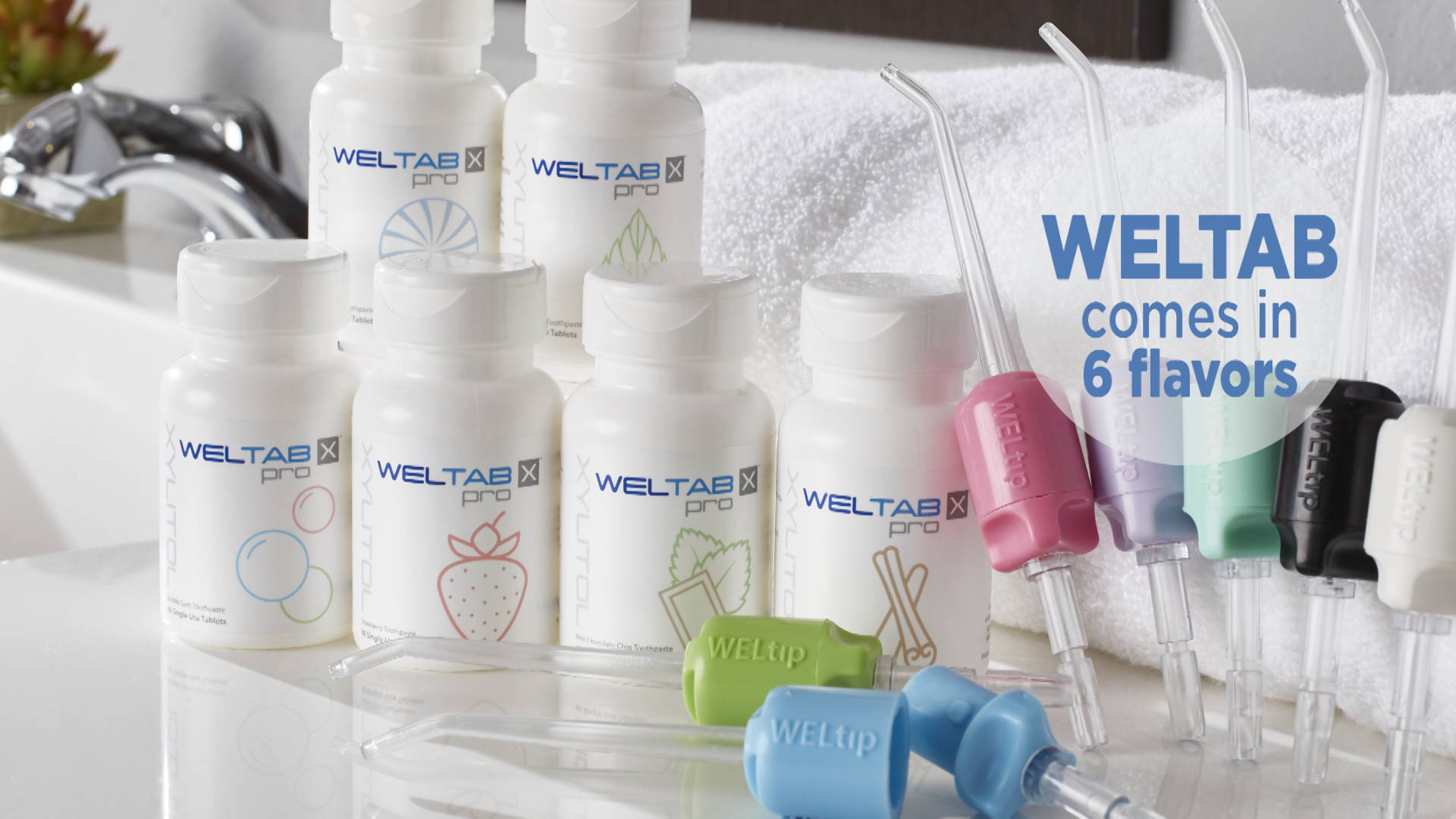 WELTIP Is Available In 7 Colors
This WELTIP set comes with 1 WELTIP your choice of color
The War Against Plaque and Why You Are Losing
Plaque is not a by-product from food. It is an excretion from bacteria. Xylitol is 100% natural & safe for you. Xylitol is 100% deadly for the Streptococcus mutans bacteria that is the source of plaque and acid. Fortunately this harmful bacterial loves Xylitol and since it can't digest Xylitol it quickly dies of starvation.
When you use WELTIP with WELTABs it delivers Xylitol, which has been proven to reduce this harmful bacteria, to your entire tooth surface and your gum pockets where the most serious damage begins.
WELTIP 1 Year Warranty
WELdental warrants to the original purchaser/owner of a WELtip that it is free from defects in materials or workmanship for one year and a replacement will be provided.
RESULTS
"My dentist gave me an estimate of $2350 for periodontal treatment I needed. Before engaging such extensive treatment, I purchased a WELdental Water Flosser. After 4 months, my dentist was amazed that my need for periodontal treatment had vanished. THANK YOU!"
- Elaine Y January 26, 2018
"I had a dental visit yesterday and was praised for having so little plaque buildup... Great products!"
- Patricia F December 15, 2017